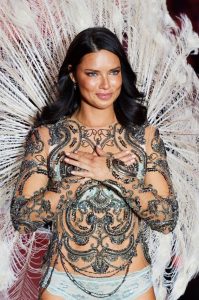 During her late teens, Adriana Lima competed in the Ford's "Supermodel of Brazil" and won. This started her professional modeling career. She next competed in the Ford Models Supermodel of the World where she won second place. A few years later, she relocated to New York City where her modeling career flourished.
Shortly after, she appeared on such prominent magazines as Vogue and Marie Claire. She has since walked many fashion runways for such brands as Emilio Pucci, Fendi, Giles Deacon, Giorgio Armani, and Sean John, Prada, Louis Vuitton. She also became most notably known for her work with Victoria's Secret where she was an Angel from 1999 to 2018. In the 2000s, she landed campaigns for Guess, Maybelline, and Swatch, among others.
With her modeling fame, she graced the covers of Vogue, Harper's Bazaar, ELLE, Grazia, Cosmopolitan, Interview, GQ, and many others. Lima also ventured into acting, first debuting in the 2001 film The Follow. She next starred in The Hire with Clive Owen. On television, she had appearances on How I Met Your Mother, Ugly Betty, and The Crazy Ones. As of 2017, she is the host and producer of the show American Beauty Stars.
The 38-year-old model continues to impress with her toned figure. Aging and motherhood surely didn't stop her from being her best self. Of course, she's able to maintain a healthy body thanks to her clean diet plan and workout routine. Her diet mainly consists of lean protein and veggies. She avoids salty foods and processed meals in general. To exercise, she relies on boxing to improve her strength.
"I started boxing many years ago and it not only became a way for me to keep myself in good shape physically, but also mentally. This sport takes so much energy and focus. It's really interesting to take your body to a different level and push yourself," said Lima in an interview with Harper's Bazaar.