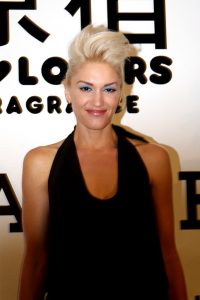 American singer-songwriter and actress Gwen Stefani first rose to prominence as the lead singer of the band No Doubt. The band came to fame with the release of their third album Tragic Kingdom, which spawned the hit songs "Just a Girl", "Spiderwebs", and "Don't Speak". They also became known for the hit singles "Hey Baby" and "It's My Life" from their later albums. In 2004, Stefani embarked on a solo career, releasing her debut solo album Love. Angel. Music. Baby.
Both a critical and commercial success, it spawned the songs "What You Waiting For?", "Rich Girl", "Hollaback Girl", and "Cool". Hollaback Girl reached atop the Billboard Hot 100. Her second solo album The Sweet Escape was next released in 2006. Her third album This Is What the Truth Feels Like, which was released a decade after the second one, peaked at No. 1 on the Billboard 200. Stefani has also pursued a career in acting. In 2004, she portrayed Jean Harlow in Martin Scorsese's film The Aviator. She's also appeared as herself in some films and TV shows. More recently, she's appeared in NBC's singing competition The Voice as a coach/advisor. Her latest album release wsa 2017's You Make It Feel Like Christmas.
Gwen Stefani is already in her 50s, which is a big suprise considering how fit she is. Of course, the singer's toned figure is a result of her constant dedication to take care of herself. As for her diet plan, Stefani started following a vegetarian diet when she was 12. She has also been an on-and-off vegan throughout the years, which she said works well for her. She stays hydrated at all times, eats vegetables always, and shops at local farms for healthier foods whenever she can. Also, she indulges in her cravings every now and then but the celebrity limits her intake of processed foods as a general rule. Instead, she chooses high-fiber vegggies like beets and carrots to keep her satiated for longer.