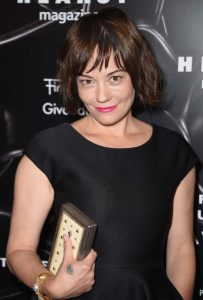 American actress Natasha Gregson Wagner started her Hollywood career in the early 1990s. During her early years, she appeared in the films Fathers & Sons, Dark Horse, Buffy the Vampire Slayer, Molly & Gina, and S.F.W. On television, she had roles in several made-for-TV movies, including Tainted Blood, The Substitute, and The Shaggy Dog. She went on to have performances in the films Mind Ripper and High School High.
She was then cast for the role of Sheila in David Lynch's Lost Highway. She subsequently starred in the movies Two Girls and a Guy, First Love, Last Rites, Dogtown, and Another Day in Paradise. She later played the role of Michelle Mancini in the 1998 slasher film Urban Legend. In the 2000s, she first starred as Beth Greeley on the short-lived series Pasadena.
She went on to play recurring character April Skouris on The 4400, as well as had notable guest roles on ER, State of Mind, CSI: Crime Scene Investigation, and House. On the big screen, she was cast in such films as Stranger than Fiction, High Fidelity, Vampires: Los Muertos, Sol Goode, and Wonderland. In 2015, she starred in the independent film Anesthesia. Her latest work on TV was in an episode of Date My Dad.
The film and TV actress stays in shape by sticking to a regular workout routine. When it comes to exercises she swears by, it's yoga. "I have been doing it since I was 17. You know, the yogis say you are as old as your spine, and I believe it. I have been seeing the same yoga cowboy for a dozen years. His name is Chad Hamrin and he teaches both at YogaWorks and privately," said Wagner. "We practice Iyengar yoga, and my body has gotten very strong from doing it, but most interestingly, my mind has become clearer and my heart softer." She also enjoys Pilates and taking walks with her dog.