Career Beginnings and Breakthrough on the Big Screen
Michelle Marie Pfeiffer was born on April 29, 1958 in Santa Ana, California to heating and air-conditioning contractor Richard Pfeiffer and housewife Donna Taverna Pfeiffer. Television and film actress Dedee Pfeiffer is her younger sister. She also has one older brother, Rick (born 1955) and another younger sister Lori Pfeiffer (born 1965). The family relocated to Midway City, where Pfeiffer later spent her childhood.
She completed her studies from Fountain Valley High School where she graduated in 1975. She then studied at Golden West College and worked as a check-out girl at Vons supermarket. After briefly working as a court stenographer, she decided to pursue a career in acting. In 1978, she won the Miss Orange County beauty pageant. That same year, she competed in the Miss California contest and finished in the sixth place. After joining in pageants, she acquired an acting agent and began auditioning for roles in television and film.
Her early acting experiences included small screen appearances in such shows as Fantasy Island, Delta House and BAD Cats, among others. She was also one of the candidates to audition as Kate Jackson's replacement in the television series Charlie's Angels in 1979, though the part went to Shelley Hack.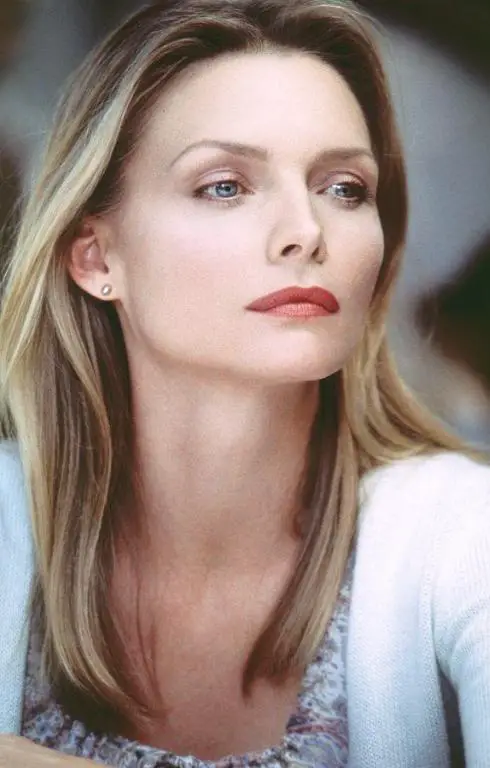 The following year, she made her film debut in The Hollywood Knights, followed by Falling in Love Again and Charlie Chan and the Curse of the Dragon Queen. To further strengthen her craft, she took acting lessons at the Beverly Hills Playhouse. She then appeared in a number of made-for-television films such as Callie and Son, The Children Nobody Wanted and Splendor in the Grass.
Her first major role was as Stephanie Zinone in 1982's Grease 2. The film received negative reviews and was a commercial failure as well, and although her acting was not hated by critics, her agent said that her association with the movie implied that it would be difficult for her to secure other projects. Fortunately, her agent was wrong as she was cast as Elvira Hancock in Brian De Palma's cult classic Scarface.
At first, De Palma refused to audition Pfeiffer for Scarface, having seen Grease 2. But due to the insistence of the film's producer Martin Bregman, he agreed. Though the film was extremely violent, it became a commercial hit and gained a massive cult following in later years. Pfeiffer garnered positive reviews for her performance with critics noting that "she is on the verge of stardom".
After Scarface, she has starred in multiple motion pictures including Richard Donner's fantasy film Ladyhawke, John Landis' comedy Into the Night, Alan Alda's Sweet Liberty and the sci-fi parody Amazon Women on the Moon. Her appearances in the said films helped to establish her as an actress. In 1987, she scored her first major box office success with the adaptation of John Updike's novel The Witches of Eastwick, playing the role of Sukie Ridgemont.
In 1988, she received her first Golden Globe nomination for Best Actress in a Motion Picture Musical or Comedy for her role in Jonathan Demme's Married to the Mob. She next appeared in Tequila Sunrise alongside Mel Gibson and Kurt Russell. She then joined the cast of the 1988 feature Dangerous Liaisons alongside Glenn Close and John Malkovich at Demme's personal recommendation.
Her performance as Madame Marie de Tourvel in Dangerous Liaisons gained her critical acclaim, winning the BAFTA Award for Best Actress in a Supporting Role. She also received her first Academy Award nomination for Best Supporting Actress. She next starred as Susie Diamond in 1989's The Fabulous Baker Boys. For her role, she garnered several awards including the Golden Globe Award for Best Actress, as well as an Oscar and a BAFTA nomination for the same category.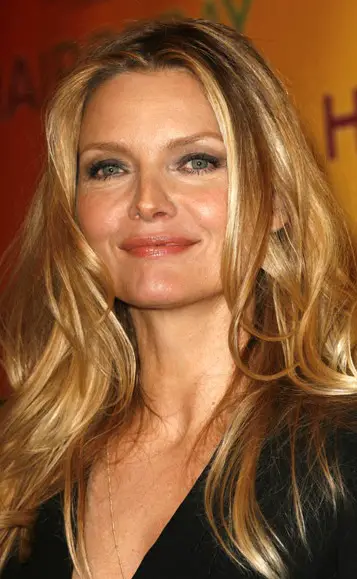 Plastic Surgery and Continuous Fame
Her international fame continued as she starred in several major films including The Russia House alongside Sean Connery. In 1991, she co-starred with Al Pacino in Garry Marshall's Frankie and Johnny, for which she gained another Golden Globe nomination. During this time, she turned down major roles such as the role of Clarice Starling in The Silence of the Lambs, which won Jodie Foster an Oscar for Best Actress, and the role of Catherine Tramell in Basic Instinct, which went to Sharon Stone.
She has since starred in prominent feature films including Batman Returns, Love Field, for which she received an Academy Award for Best Actress, The Age of Innocence, Dangerous Minds, A Midsummer Night's Dream, What Lies Beneath, I Am Sam, White Oleander, Hairspray, New Year's Eve and Dark Shadows, among others.
Pfeiffer, despite her glorious run as a film actress and her classic beauty envied by many women, is still ageing. And with this, people are wondering if she has had any procedures done to cover any trace of years that had long been gone. After all, Pfeiffer is still seen as gorgeous for her age and is a fine example of graceful ageing in Hollywood. But is it really all natural?
The actress said yes. In an interview with the Telegraph in November 2013, she stated: "There's this transition from, 'Wow, she looks really young for her age,' to 'She looks great for her age.' And there's a big difference. I'm now at, 'She looks great for her age.'" She later added: "There is certainly a mourning process to that." But, you know, it's kind of liberating. I don't need to look younger than I am, because it ain't gonna change anything."
It may be very common among other celebrities but Pfeiffer said that she has never had plastic surgery or Botox but is open to such possibilities. She said: "I used to think I would never have surgery but it's really hard to say never. I'm in the 'never say never' camp now."
With this revelation, should we expect any dramatic physical transformations from Pfeiffer any time soon? If ever she decides to go for it, let's just hope she doesn't fall to the "worst celebrity plastic surgeries" category; or that graceful ageing of her will be all for nothing.