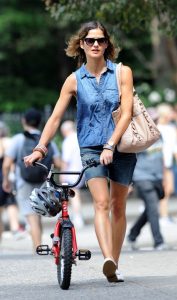 It was in 1988 that Jill Hennessy's acting career started. She made her cinematic debut in Dead Ringers. She then appeared in 4 episodes of Friday the 13th: The Series. In the 1990s, she became known for her role as A.D.A. Claire Kincaid in the TV series Law & Order. She received wider recognition for her role as Dr. Jordan Cavanaugh in Crossing Jordan. She later had roles in the movies Wild Hogs and Lymelife. In the 2010s, she joined the main cast of the short-lived series Luck. She also played a recurring character in Jo. More recently, she's made appearances on other TV shows. This includes Madam Secretary, Shots Fired, and The Blacklist.
The 49-year-old actress remains fit and healthy thanks to her active lifestyle. She loves moving around and spends her free time exercising. She is a big believer that exercising cannot only make her slimmer and fitter, it can also help her look younger and feel happier. This is one of the main reasons why she looks awesome despite the fact that she's nearing her 50s. In an interview, she was noted for saying:
"I love Yoga. I was doing Yoga during pregnancy. It's something I could do while the baby's down for a nap and I have five minutes to myself. Or I'll get up twenty minutes early and do some sun salutations. It clears my head and it's fun. I feel like I'm a little kid playing again doing stupid things with my body and I love it." She also loves taking walks and making her errands using her bicycle instead of driving. Basically, she finds reasons to her body moving as much as she can. This is important as she believes a sedentary lifestyle can have health repercussions.