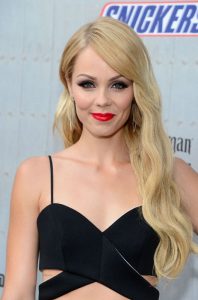 Canadian celebrity Laura Vandervoort had her career beginnings on the Canadian screen in the late '90s. Afterwards, she landed guest roles on various TV shows. She then got her break after securing the role of Sadie Harrison on the Canadian show Instant Star. Simultaneously, she became known among international audiences for portraying Kara Zor-El on the US series Smallville and Lisa on V. She recently starred as Elena Michaels on the short-lived series Bitten. She also had a recurring role as Indigo on Supergirl. In addition, she'll star in the upcoming movie Saw: Legacy.
The 32-year-old actress maintains her slender physique and toned figure by making sure she has a healthy lifestyle. Aside from exercising regularly, she also eats well. She loads her body with mostly nutritious food, not only to maintain a slim body, but also to ensure her overall health and wellness. She also believes that having a healthy body is having a healthy mind. When you're fit and healthy, you're quality of life improves as well. Being an actress, being full of energy is also crucial. Since she doesn't get energy from unhealthy foods, she avoids them. She basically steers clear of oily, salty and starchy foods.
When asked what her diet secrets are, she said: "For me, it's just trying to get protein, because I don't really eat meat. So, it's the almond butters and protein powders, lot of fruits and vegetables. I try to almost do a Paleo diet, but I'm not very good at sticking to it. I eat several little meals a day, instead of three big ones, while I'm working, because you want to not feel too heavy, and drinking lots of water." Of course she has indulgences once in a while, but she always practices moderation. For her balance is key.