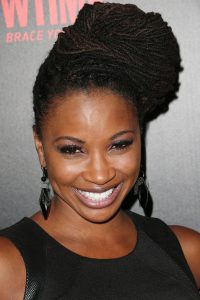 It all started in 2001 for Hollywood star Shanola Hampton. This was when she debuted in an episode of the TV series Reba. She next guest-starred in Strong Medicine. Her first recurring role was as Flash in Related. In 2005, she had her first movie role in The Mostly Unfabulous Social Life of Ethan Green, after which she guest-starred in Pepper Dennis. Her next work was in 2007's The Hanged Man.
Her career blossomed in the 2010s, first playing Dr. Graceffa in 6 episodes of Miami Medical. At the same time, she had a role in the movie You Again. Her breakthrough role came in 2011 — as Veronica Fisher in the Showtime series Shameless, which she still plays up to now.
She simultaneously starred in the films Things Never Said, Suburban Gothic, Worthy, and Forever. She also starred in the made-for-television film Christmas in the City. In addition, she appeared as herself in the reality show Hell's Kitchen, as well as had a one-time role in Stalker.
The actress stays in shape by doing workouts. She admits that she needs to work on her motivation to eat clean but, when it comes to exercise, she's game. Despite her crazy schedule, she's able to squeeze some time in for her workout routine. "Pilates is one of my favorite workouts. I do cardio on the treadmill, elliptical, and bike. Low weights and high reps, along with a major ab work," shared the actress.
"Ideally, I'll do eighteen minutes on a treadmill with five-pound weights, then move to the elliptical for fifteen minutes, and finish with the bike." She also heavily relies on meditation to improve both her mental and physical strength. "I practice beauty from the inside out by doing meditations," said the Shameless star. She intends to make her fitness regimen varied to avoid getting bored.