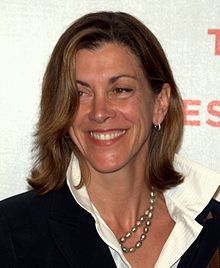 Film and TV actress Wendie Malick first acted in the 1978 film How To Pick Up Girls. In the 1980s, she appeared in the films A Little Sex and Scrooged. She also had her first starring role on the small screen, playing Dr. Brigitte Blaine in Trauma Center. She next played Claire in some episodes of the CBS sitcom Kate & Allie. Between 1989 to 1994, she played recurring character Gayle Buchannon in Baywatch. It was her role as Judith Tupper Stone in the sitcom Dream On that largely contributed to her prominence on TV.
During this period, she also had performances in the films Funny About Love, Bugsy, The American President, Apollo 11, Just Add Love, and Jerome. She went on to land the role of Nina Van Horn in the NBC sitcom Just Shoot Me!, which she starred in from 1997–2003. At the same time, she voiced Principal Folsom in some episodes of the animated series Fillmore. She next played recurring character Ronee Lawrence in the sitcom Frasier.
Afterward, she starred as Naomi Clark in ABC's Jake in Progress, as well as voice starred in the animated show The X's. Also in the 2000s, she starred in the movies Cahoots, Racing Stripes, Adventureland, Confessions of a Shopaholic, and The Goods: Live Hard, Sell Hard. She became more popular in the 2010s for starring as Victoria Chase in the sitcom Hot in Cleveland. Following its finale in 2015, she began playing the part of Kathryn in the sitcom American Housewife. More recently, she played Lisa Neumann in the web series The Ranch.
Staying fit and healthy is a must for Wendie Malick. Not only because it helps her maintain a healthy weight, but also because she feels good as far as her overall wellness is concerned. To do this, she's long since incorporated exercising as part of her normal lifestyle. She's also taken up Pilates, which she learned was very beneficial for her posture. She also hikes with her dogs and does lots of work caring for her dogs, horses, and donkeys.