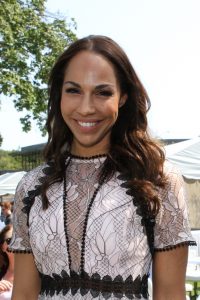 Canadian star Amanda Brugel debuted with a small role in the 1999 TV movie Vendetta. She next acted in another TV film called A Diva's Christmas Carol, as well as made one-time roles in Soul Food, Leap Years, and Tracker. In 2001, Brugel had her first film role in Jason X. She later had roles in the films The Prince and Me and KAW.
She also had roles in several TV films, including Beautiful Girl, This Time Around, and Category 6: Day of Destruction, among others. Her first starring role on the small screen was as Lynnie Jordan in the soap opera Paradise Falls. At the same time, she played the role of Megan Chandler in MVP. In the 2010s, she played Olivia in some episodes of Covert Affairs. She later starred as Michelle Krasnoff in the Canadian sitcom Seed. She later played Marci Coates in Orphan Black.
Since 2016, she's been starring as Pastor Nina Gomez in the sitcom Kim's Convenience. At the same time, she played recurring character Sita Petronelli in the TV drama Eyewitness. She became further known for her role as Rita in The Handmaid's Tale. Brugel also currently stars as Faith Hanlon in USA Network's Dare Me. The actress also starred in the 2013 film Sex After Kids. Her latest movie role was in 2020's The Education of Fredrick Fitzell.
Amanda Brugel maintains her healthy figure combining her fitness regimen and healthy diet plan. As a general rule, she avoids foods high in sugar. She's also since but back on oily and starchy foods, which is why she rarely eats processed foods now. Instead, she focuses on foods that make her feel good from the inside out. For breakfast, it's typically an egg or a bowl of whole grains oatmeal with fruits. Lunch and dinner, meanwhile, consist of fish or chicken, brown rice, and salad.