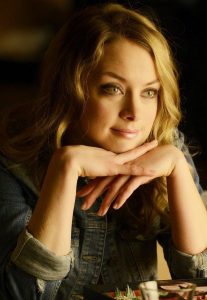 Canadian actress Rachel Skarsten got her career start in the late 1990s. She made her debut in an episode of the show The Famous Jett Jackson. Her first starring role on the small screen was as Elizabeth "Bess" Lawrence in the short-lived Canadian series Little Men. In the 2000s, she had roles in the TV movies Angels in the Infield and Jewel. She next starred as Dinah Lance in Birds of Prey. During this period, she also made her film debut in Virginia's Run. She next appeared in the films Fear of the Dark and Jack Brooks: Monster Slayer, as well as in the miniseries Category 7: The End of the World.
In the 2010s, she appeared as Natalie Braddock in Flashpoint, Elyse in The Listener and Roxanne in The L.A. Complex. She then became further known for her role as Tamsin, a recurring character in the popular Canadian series Lost Girl. She also played the role of Andrea in Fifty Shades of Grey. From 2015 to 2017, she portrayed Elizabeth of England in The CW series Reign. As of 2018, she plays Poppy Langmore in the series Imposters. Additionally, she's played the role of Leah in the movie Molly's Game.
Rachel Skarsten stays in shape by sticking to a healthy lifestyle. Aside from her active workout routine, she also makes sure that she follows a clean diet plan. She does this not only to maintain a slim physique but to also stay healthy overall. Besides, eating nutritious food makes her feel great inside and out. Thus, it's not difficult for her to focus on eating healthy meals. Basically, her diet plan consists of lean proteins, whole grains, and fruits and veggies. She eats in moderation so portion control is something that she applies on a daily basis. She has indulgences every now and then, which is fine because she has them in moderation.