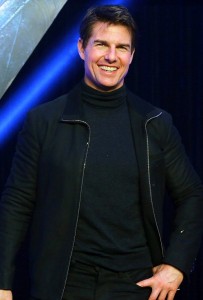 American actor Tom Cruise has been one of Hollywood's iconic leading men since the 1980s. With a career spanning of more than thirty years, Tom is a huge star anywhere in the world. He was 19 when he started acting in Endless Love then went on to get attention for roles in Risky Business and Top Gun. One of his mainstream successes as a movie star was as Ethan Hunt in the Mission: Impossible films. He's also an award-winning performer, earning Golden Globe Awards for Best Actor for his roles in Jerry Maguire and Born on the Fourth of July. Most recent features are Jack Reacher, Oblivion, Edge of Tomorrow, and Mission: Impossible – Rogue Nation.
Despite being in his 50s, Tom still has got moves that makes him one of the experts when it comes to starring in action films. He's incredible in his fight scenes and even does his own stunts. With his latest Mission Impossible film, Tom showed once again how awesome he still looks and just how effective he still is as an action star. Looking younger than his actual age, it's with certainty that the award-winning actor take care of himself quite well. Along with eating healthy, Tom has been regularly working out since before to maintain his healthy and lean body. In an interview, Tom shared: "I train, go without sleep. I just go hard."
This was when he starred as a rock god in Rock of Ages. Since he mostly showcased his abs in that movie, Tom had to work harder to look like the part. He followed a strict diet and lifted weights many hours a day. In addition, he went through three hours of daily dance training and five hours of voice training every day (since he played a musician). Rigorous training is nothing new for Tom. With the number of films he's done, preparing physically for a role is something that's part of his work routine.