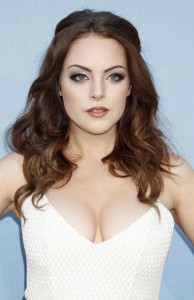 American actress Elizabeth Gillies began her career on TV as she was entering her teens. She then got lucky after being picked to play a role in a Broadway show when she was 15. That same time, she appeared in her first movie. A few years later, she became known for her starring role in the Nickelodeon show Victorious, which effectively obtained her mainstream attention, particularly from teenage viewers. She also worked as a voice actress for Winx Club. Over the next few years, she continued her work on the small screen with guest roles until she secured a main role in Sex&Drugs&Rock&Roll, which she began working on last year. She's also a film actress who's appeared in a couple of movies like Animal and Vacation.
The former Nickelodeon star is now in her 22s and her body has surely adjusted to her age. Standing at 5'7, Elizabeth is also notably known for her curvaceous figure, which developed as she was maturing. When she was only 19, the TV actress was already advocating healthy eating to her fans. Interestingly, Elizabeth follows a vegan diet. She also stays away from foods with gluten because she's allergic. However, it wasn't always so easy to practice such dietary regime as she loved meat before.
In an interview, she said: "In the beginning it was hard, now I'm pretty used to it. I still constantly crave burgers, cheese and all the foods I can't have, but I've learned to live without them." Her advice? "Don't cut everything out at once. Gradually eliminate foods out of your diet, and see how you feel. Make sure to find ways to balance out your diet so that you're getting all the nutrients you need", she said. She still craves unhealthy stuff like french fries and milkshakes, but she has learned how to discipline herself, and this means learning how to stop herself from having those that aren't good for her.