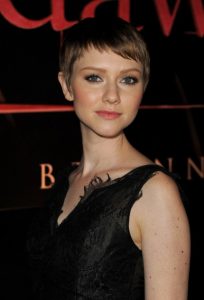 Hollywood star Valorie Curry had her career beginnings in the mid-2000s. She made her television debut as Jane Kuhne in Veronica Mars. She took a long hiatus after that and only returned in the 2010s. During this period, she made guest appearances in the shows CSI: NY and Psych. She also acted in a few short films. In 2012, she played the role of Charlotte in the movie The Twilight Saga: Breaking Dawn – Part 2. After this, she landed the role of Emma Hill in the series The Following, where she was part of the main cast for two seasons. She next appeared as Kelsey in the show House of Lies. In 2016, she had roles in the feature films Blair Witch and American Pastoral. As of 2016, she plays the main role of Dot Everest in Amazon series The Tick.
The 32-year-old actress stays in shape by following a regular workout routine. Interestingly, she admitted that she used to hate working out because she did it for the sake of staying slim. "Before that, I always looked at exercise and even food as this obligatory thing because I had to be a certain weight, it was about being a certain weight, having a certain body size, looking a certain way. I hated it, I would resent it. I felt like I was punishing myself," she said.
Eventually, she learned how to shift her focus. She stopped thinking about staying thin and focused on getting healthy and strong. She said: "When I stopped making it about a result that I felt like I had to have, all of a sudden that's when exercise became something that I would go and do for myself, because I like my time in the gym, because I like to feel strong, because I like lifting. " And that made all the difference.