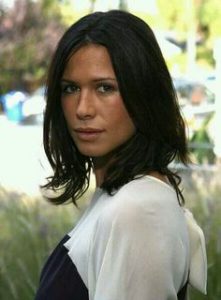 In 1995, English actress Rhona Mitra debuted on the TV series Ghostbusters of East Finchley. She next appeared in the direct-to-video films Eddie Izzard: Glorious and A Kid in Aladdin's Palace. At the same time, she had performances in the TV movie Lust for Glorious and the miniseries The Man Who Made Husbands Jealous. She later pursued a career in Hollywood, first as Holly Marie Beggins, a recurring character on the Fox drama series Party of Five.
After this, she starred as Dr. Alejandra Ollie Klein on the medical drama Gideon's Crossing. She became further known for playing Tara Wilson on The Practice, which she reprised in Boston Legal. In the movies, she had her first credited role in 1998's Monk Dawson. She also had supporting roles in the films Get Carter, Ali G Indahouse, Sweet Home Alabama, and The Life of David Gale.
She went on to star in the movies Highwaymen, Skinwalkers, and Doomsday. In 2009, she played Sonja in Underworld: Rise of the Lycans. In the 2010s, she starred as Claire Radcliff in the short-lived series The Gates. She next played Maj. Rachel Dalton on the TV series Strike Back and Dr. Rachel Scott on The Last Ship. Her latest TV role was as Mercy Graves on Supergirl. During this period, she also had performances in the films Reuniting the Rubins, The Loft, Game Over, Man!, and The Fight.
Apart from her clean diet plan, the actress-model sticks to an active lifestyle to maintain her toned and fit body. Her various roles in film and television have also required her to take her workout routine to the next level. She would do strength training whenever her character needed to be stronger in appearance to gain muscles. Normally though, her workout routine basically includes cardio, Pilates, and yoga. She also attends barre classes every now and then.