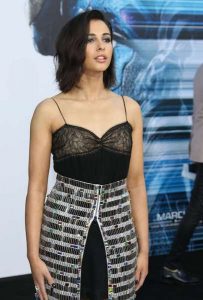 Hollywood star Naomi Scott started her career in the UK, starring as Megan in Life Bites. This was back in 2008-2009. Two years later, she pursued a career in the US with a performance in the TV movie Lemonade Mouth. Around the same time, she became known for her role as Maddy Shannon in the short-lived Fox series Terra Nova. Her next role was a guest appearance in the British program By Any Means. In 2015, she made her cinematic debut in the film The 33.
She had a small role in the film The Martian, though her scenes were cut. From 2015 to 2016, she also played Sahira Desai in the ITV series Lewis. More recently, she gained mainstream fame thanks to her role as Kimberly Hart / Pink Ranger in 2017's Power Rangers. She even came to wider prominence after it was announced that she landed the role of Princess Jasmine in the upcoming musical fantasy film Aladdin. In addition, she will also star in Elizabeth Bank's upcoming 2019 remake of Charlie's Angels starring alongside Kristen Stewart and newcomer Ella Balinska.
The actress trained vigorously for her role as the Pink Ranger in the film Power Rangers. With the action scenes she was required to do, it was crucial that she both appeared and felt stronger, hence, the intense training she's experienced. While it was intense, the actress also said how rewarding it was in the end.
"We had three weeks training before we started filming and there were muscles that I didn't even realize I had that would ache," said Scott. "It was like a crash course, and our stunt doubles are just incredible; some of the things that they have to do, you're just like, 'You are just amazing!' And they're not just there to be our stunt doubles, they're there to keep us safe, they're there to teach us choreography." Even after the film, the young star continues to strengthen her body through regular workouts. She runs, she hits the gym and take up classes, tries yoga, and plays sports. She basically mixes things up for added fun.