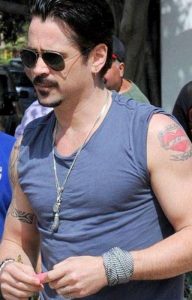 Irish actor Colin Farrell had his career beginnings in the 1990s, first starring in the BBC series Ballykissangel. He then made his film debut in 1997's Drinking Crude. His first starring role was as Pvt. Roland Bozz in Joel Schumacher's movie Tigerland. He reunited with Schumacher again in the 2002 film Phone Booth. He later became further known for playing Bullseye in the movie Daredevil and for starring in the films The Recruit and S.W.A.T.
He later portrayed Alexander the Great in the film Alexander and Captain John Smith in The New World. Subsequently, he starred in the features Ask the Dust, Cassandra's Dream, and Crazy Heart. In the 2010s, he starred in the movies Total Recall, Horrible Bosses, Saving Mr. Banks, and The Lobster, among others. He also starred as Detective Ray Velcoro in the second season of True Detective. In addition, he has also starred in the recently released films Fantastic Beasts and Where to Find Them, The Beguiled, and Roman J. Israel, Esq.
The actor may be in his 40s but he surely still got the manly physique he's been known for. Being an actor, it's not new for him to undergo physical training in order to prepare for his characters. In general though, he observes an active lifestyle by following a workout routine that not only keeps him buff but strong and agile as well. In interview, he got candid about one of the trainings he did for a film role. For example, he trained hard to prepare for his role in the movie Total Recall. Talking about it, he said:
"I did a two-mile jog every day, an hour of weights, every day, six days a week, for about three months before we started. And I'm somebody who a couple of years ago couldn't even run a mile." On the other hand, he also confessed that he didn't always stick to a healthy lifestyle. "I don't put the same level of energy into healthy living as I did into unhealthy living," he was noted for saying.