Career Beginnings to Hollywood Stardom
Uma Karuna Thurman was born on April 29, 1970 in Boston, Massachusetts, U.S. to professor Robert Alexander Farrar Thurman and model Nena von Schlebrügge. She was mainly raised in Amherst, Massachusetts. There, she went to Amherst Regional Middle School. They later relocated to Woodstock, New York.
She discovered her passion for acting when she was in the eight grade. She then played Abigail in a production of The Crucible, where she was noticed by talent scouts and was offered the opportunity to act professionally. She went on to attend Northfield Mount Hermon School, although she dropped out to pursue a career in acting.
At the age of 15, she first became a model, signing with Click Models. Her mainstream modeling jobs include posing for Glamour magazine and appearing in the cover of British Vogue twice in December 1985 and May 1986. In 1987, she made her film debut with Kiss Daddy Goodnight.
The following year, she appeared in the films Johnny Be Good, The Adventures of Baron Munchausen and Dangerous Liaisons. She gained substantial notice for her role as Cécile de Volanges in Dangerous Liaisons, which went on to be nominated for the Academy Award for Best Picture.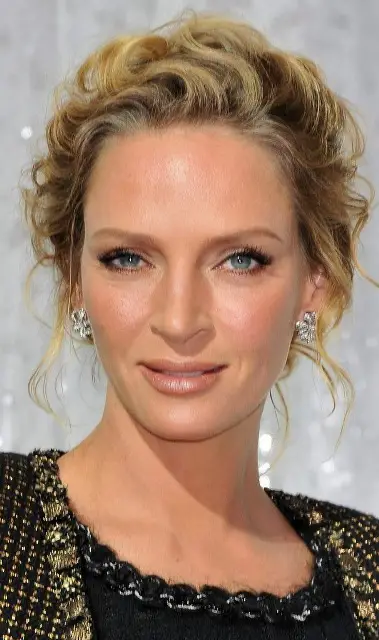 In the early 1990s, she starred in the films Where the Heart Is (1990), Henry & June (1990), Final Analysis (1992), Jennifer 8 (1992) and Mad Dog and Glory (1993). She was then cast in her first lead role in Gus Van Sant's 1993 adaptation of Tom Robbins' novel Even Cowgirls Get the Blues. The film was a commercial and a critical failure, with Thurman receiving a Worst Actress Razzie nomination.
After a series of unsuccessful films, she auditioned for Quentin Tarantino's Pulp Fiction and successfully got the role of Mia Wallace. The film became a critical and commercial hit, earning over $107 million on a budget of only $8 million. For her performance, she was nominated for the Academy Award for Best Supporting actress.
In the mid-1990s, she appeared in a series of moderately successful movies such as Beautiful Girls (1996), The Truth About Cats & Dogs (1996) and Batman & Robin (1997).
The following year, she played Emma Peel in The Avengers, which was a commercial and a critical disappointment. She next played Fantine in Les Misérables, in which her performance was praised, with the late critic Roger Ebert saying that "Thurman's performance is the best element of the movie."
After giving birth to her first child in 1998, she took a break from acting to focus on motherhood. During her hiatus, she opted to appear in independent and made-for-television films like Vatel (2000) and Tape (2001), where she co-starred with her then-husband Ethan Hawke. For her performance in Tape, she was nominated for the Independent Spirit Award for Best Supporting Female.
In 2002, she played Debbie Miller in the HBO television film Hysterical Blindness, where she also served as one of the executive producers. Her performance was critically lauded, winning a Golden Globe Award for Best Actress – Miniseries or Television Film, as well as earning a Screen Actors Guild nomination for the same category.
She next starred in John Woo's 2003 film Paycheck, alongside Ben Affleck and Aaron Eckhart, which received mixed reviews and was a moderate box office success. Later in 2003, she starred in what would re-ignite her career in Hollywood, reuniting with Quentin Tarantino in Kill Bill Volume 1. Tarantino wrote the part specifically for her.
Though originally designed to be one film, it was eventually released in two parts and would become a cult classic. It also received widespread praise and was a major box office hit, earning $333,108,506 worldwide. Her role as Beatrix Kiddo or The Bride garnered her a Saturn Award and an Empire Award for Best Actress. She was also nominated for a BAFTA and a Golden Globe for Best Actress.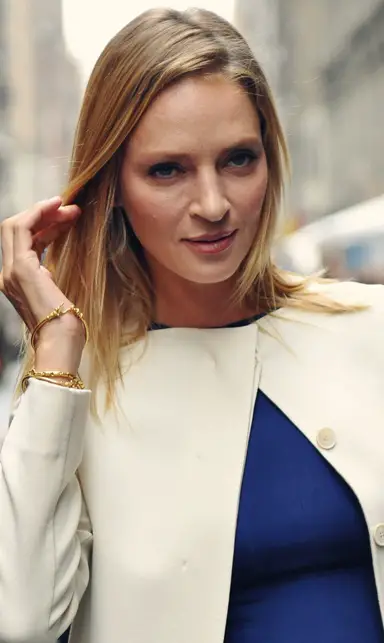 Subsequent Films and Plastic Surgery
In 2004, she reprised her role in Kill Bill Volume 2, which also became a commercial and critical success just like its predecessor. She then received a Golden Globe nomination for Best Actress for her performance. By 2005, Thurman was receiving a compensation of $12.5 million per film.
Her first film for 2005 was the crime-comedy movie Be Cool, a sequel to the 1995 hit film Get Shorty, which also reunited her with Pulp Fiction co-star John Travolta. The movie garnered poor reviews and performed below box office expectations. Later that year, she co-starred with Meryl Streep in Prime and played a Swedish stage actress in The Producers.
She has since starred in the films My Super Ex-Girlfriend (2006), The Naked Brothers Band: The Movie (2007), The Life Before Her Eyes (2008) and The Accidental Husband (2008).
She also made a guest appearance as Rebecca Duvall in the television series Smash. Her performance was highly acclaimed and she was nominated for a Primetime Emmy Award for Outstanding Guest Actress in a Drama Series.
Thurman sparked rumors of plastic surgery after attending the Giorgio Armani show at Paris Fashion Week last year. Sure, the actress has aged and is not the same as her younger self made famous by her role as Mia in Pulp Fiction and The Bride in Kill Bill. However, observers think that her transformation is not the result of ageing, but rather of plastic surgery.
The appearance of her face was even compared to that of singer Madonna, mainly because Madonna underwent such procedures as botox and had lip plumpers. Experts have also stepped in to share their opinions. Melbourne plastic surgeon Michael Diaz said: "It looks like she got her eyelids done, particularly the lowers."
The doctor also stated that the actress may have had fillers in her nasiolabial folds skin resurfacing as well as Botox. Boston plastic surgeon Jeffrey Spiegel also supported the claim, saying: "She looks significantly 'less good' and it could be aging, or because she got over-injected." The actress, however, chose not to address the reports.