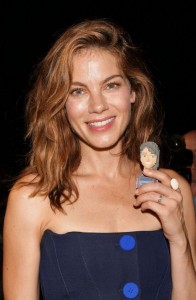 Michelle Monaghan started her career in 2000 when she was in her mid 20s. Soon after, she landed a notable role on the television series in Boston Public, appearing on the show for eight episodes. She then proceeded to playing small roles in prominent movies like in The Bourne Supremacy and Mr. & Mrs. Smith. She came to mainstream prominence after being chosen to play Julia in Mission: Impossible III. She has since starred in lead roles in the action films Eagle Eye and Source Code, as well as in romantic comedies like The Heartbreak Kid and Made of Honor. In the 2010s, she's had starring roles in the action flick Machine Gun Preacher and the romantic drama The Best of Me. She returned to television as Maggie Hart in True Detective's first season.
Standing at 5'7, the 39-year-old actress is looking radiant and fabulous as ever. With her Hollywood career flourishing, so is her family life. She's been married for over a decade and has two children. With her family life and career, it really is amazing how she can manage to maintain her youthful self. In an interview, she admitted that her eating habit was not always that clean and healthy. Prior to giving birth to her first child, Michelle was fond of fast food like McDonald's.
Being pregnant changed all that as it is a mother's instinct to cut all unheathy food and replace it nutritious one for her little one. Her new eating lifestyle sees her eating more greens as she revealed she's more into salads especially for lunch with the addition of turkey sandwiches with avocado and a slice of Swiss cheese, and homemade soup. Her soup mostly consists of broccoli, cauliflower, and butternut squash. For dinner, she likes to have fish like trout and salmon, with steamed or roasted veggies or brown rice.