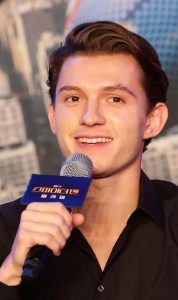 English actor Tom Holland got his career beginnings in the 2010s. He made his acting and film debut as Lucas Bennett in the film The Impossible. He next played notable roles in the movies How I Live Now and played Thomas Nickerson in In the Heart of the Sea. In 2015, he made his television debut as Gregory Cromwell in the British series Wolf Hall. He gained mainstream success after landing the role of Peter Parker / Spider-Man, first playing the role in Captain America: Civil War.
Following this, he starred in the movies Edge of Winter, The Lost City of Z, and Pilgrimage. He also starred in his own standalone film Spider-Man: Homecoming in 2017. That same year, he portrayed Samuel Insull in the movie The Current War. He reprised his role as Spider-Man in the 2018 film Avengers: Infinity War. He will play Todd Hewitt in the upcoming 2019 film Chaos Walking. He'll also reprise his role as Spider-Man in the upcoming sequel Spider-Man: Far From Home.
The 22-year-old actor trained vigorously for his role as Spider-Man in the Marvel films that he just recently starred in. In his social media accounts, he posted photos and videos of him boxing and doing circuit training. Apparently, these are some of the activities he does as part of his workout regimen. In an interview with Men's Journal, it was also revealed that the actor has undergone EMS or Electronic Muscle Stimulation, which is a form of physical therapy.
Talking about how he got into this form of training, he said: "I heard about the training method through my buddy Bobby, who was on set with Chris while we were filming In The Heart Of The Sea." He then added: "I do it on top of my gymnastics training, and it's a lot of good fun. It's basically this electronic suit that's put on while you work out, and it seems to be working out really well."