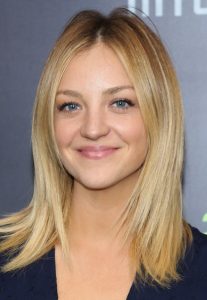 Hollywood actress Abby Elliott started her career in 2006, first doing work for the show Minoriteam. She gained recognition two years later after joining the cast of the sketch comedy show Saturday Night Live.
She was part of the show from 2008 to 2012. In 2011, she made her big screen debut playing the role of Joy in the romantic comedy No Strings Attached. During this period, she also did voice work in 4 episodes of King of the Hill. She even portrayed Kristen Cavallari in an episode of Saturday Night Live Weekend Update Thursday.
In the 2010s, she had film performances in High Road, Fun Size, and Life Partners. In 2014, she played the supporting role of Taylor in Teenage Mutant Ninja Turtles, as well as appeared in the comedy feature Sex Ed. Back on TV, she played recurring character Jeanette Peterson on How I Met Your Mother.
From 2015-2017, she starred as Brooke Von-Weber on the comedy series Odd Mom Out. As of 2015, she plays the voice of Janna on Star vs. the Forces of Evil. In addition, she played recurring role Chelsea on the animated series Home: Adventures with Tip and Oh.
Apart from her workout routine, the comedic actress maintains a fit body by following a healthy diet plan. She generally stays away from processed and junk foods. Instead, she focuses on having organic, whole foods. Her diet primarily involves proteins, whole grains, and fiber-rich foods.
For breakfast, it's usually eggs or toast with a cup of coffee. Mid-morning she snacks on fruits. She loves stomach-filling ones like apples, blueberries, and bananas. When she craves for sweets, she has fruits instead as well. For lunch, she likes some chicken or fish with rice and salad on the side. Occasionally, she has red meat. She has the same for dinner and sometimes, she treats herself for a glass of wine, too.