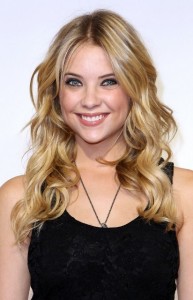 Ashley Benson was around 13 when she started her acting journey, first on television. Her first notable role was on a soap opera in the mid 2000s. Her first notable role as a movie actress was in Bring It On: In It to Win It, although it was released straight to DVD. Before the decade ends, she joined the main cast of Eastwick, which went on to become short-lived. Her big break came afterwards in the form of her starring role in Pretty Little Liars, a series which became significantly successful that it's currently in its sixth season. In the 2010s, she starred in the movies Spring Breakers and Pixels, which garnered her significant attention from moviegoers.
The 26-year-old petite actress is undeniably sexy with her curves. Over the years, she has notably shed some pounds as she appears to be thinner compared to before. Reportedly, Ashley engages herself in some training sessions to ensure that she manages her weight. She does kickboxing and Pilates among others. As for diet secrets, it was implied that the actress is into juice cleansing. Prior to this, she has tried practicing the healthy delivery meal service called Paleta before switching to a liquids-only diet.
She proceeded to other kinds of liquids diet, which included a three-day juice cleanse regimen. Others might say that liquid dieting is a bit extreme, but they seem to be working greatly for the actress. She doesn't look unhealthy and her being slender doesn't seem off. Basically, juice cleansing method has good benefits if practiced properly and if it suits your needs. For others, it doesn't seem to work out, which means it doesn't really bring awesome outcome, but it appears to be well-suited for the Pretty Little Liars actress as she has since looked fit, healthy, and radiantly blooming.