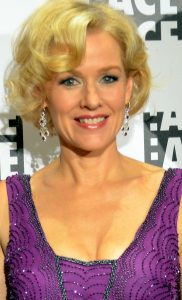 Hollywood star Penelope Ann Miller had her career beginnings in the 1980s. She debuted on the big screen with the movie Hotshot. Soon she gained recognition for her role in Adventures in Babysitting. The rest of the '80s saw her perform in the films Biloxi Blues, Miles from Home, and Dead Bang. She also appeared notably on the sitcom The Popcorn Kid. During the '90s, she became further known for her remarkable performances in such films as Kindergarten Cop, Other People's Money, The Shadow, and The Relic. She also portrayed Edna Purviance in the biographical feature Chaplin.
She later co-starred with Al Pacino in Carlito's Way. She went on to play Erica Hewitt in 10 episodes of The Closer. In the 2000s, she starred as Molly Hooper on the sitcom A Minute with Stan Hooper, as well as starred as Jessica Nevins on the Fox series Vanished. Her next role was as Sonia Tranelli on Men of a Certain Age. From 2013 to 2014, she starred as Elizabeth Grey on ABC's Mistresses. Afterward, she portrayed Eve Carlin on American Crime. In the movies, her most recent works were in the 2016 films The Birth of a Nation and The Bronx Bull.
She may already be in her 50s but the actress manages to stay fit and slender thanks to a healthy lifestyle. She eats well and she loves to exercise as well. She hits the gym as often as possible to work out and really enjoys taking classes there. She likes to try different kinds of routine to avoid getting bored, too. "I'm really a fan of working out," said the actress. "I love the way I can see the results in my body like my abs tightening and every muscle becoming toned. It's addicting." Of course, her naturally active lifestyle also helps a lot to keep her body in top shape.