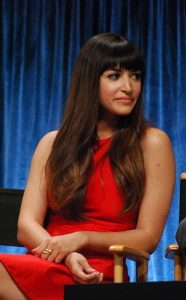 Hollywood actress Hannah Simone began her acting career in the mid 2000s. During this time she made guest appearances on a couple of shows. This includes Kevin Hill, Kojak, and Beautiful People. Afterwards, she hosted the reality show WCG Ultimate Gamer. Her major breakthrough came in the early 2010s after landing the role of Cecilia "Cece" Parekh on New Girl. The show's popularity made her a well-known actress, too. For her work here, she got a Teen Choice Award for Breakout Performance. While on the show, she had appeared in the films Oldboy, Flock of Dudes, Folk Hero & Funny Guy, and Band Aid. She also currently hosts the reality show Kicking & Screaming.
Standing at 5'7, the New Girl star is known for her ravishing beauty and modelesque figure. The actress shared that she's always been healthy and in shape, thanks to her regular workouts and proper nutrition. She shared about her love for walking and cooking. "On a day-to-day basis, I love cooking," she said. "My cathartic thing now is to go to the grocery store and see what I'm in the mood for. It might be Indian or Italian or Cypriot," she added.
She went on to say: "My comfort place in my home is the kitchen. My family all live on the same street, so everyone comes over and I cook and we all sit around and eat, mezze style. I'll throw some halloumi cheese on the grill, and we'll make my mom's salad and we eat as we go. It's not very formal. Everything is healthy and fresh and has lots of spice and flavor. And because we made it in my own kitchen, nobody has to worry about the other things that could be slipped in there."
For her, getting her body to be nourished is vital for feeling great. "It's incredible how much better your body feels when you're nourishing it properly. In the beginning I might miss having a cup of coffee in the morning or a glass of red wine at dinner. But all the things you think you can't do without – you can get through it just fine," she said.