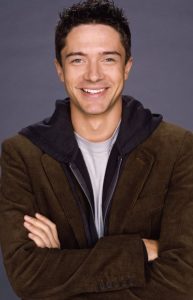 American actor Topher Grace debuted on television playing the lead role Eric Forman on the Fox sitcom That '70s Show. He was part of the show's main cast from seasons 1-7. Simultaneously, he pursued a film career as well. His first role was as Seth Abrahams in the movie Traffic. He next made a cameo in Ocean's Eleven and its sequel Ocean's Twelve. He later played a supporting role in the movie Mona Lisa Smile. He next starred as Pete Monash in the romantic comedy film Win a Date with Tad Hamilton! He later starred in the drama film In Good Company.
In 2007, he portrayed Eddie Brock/Venom in Spider-Man 3. This was after That '70s Show had ended. In the 2010s, he starred in the movies Valentine's Day, Predators, Take Me Home Tonight, The Double, The Giant Mechanical Man, and many others. He also co-starred on the web series The Beauty Inside. His other credits on the big screen include American Ultra, Interstellar, Don Peyote, Opening Night, Delirium, and BlacKkKlansman. This year, he starred in the movie Under the Silver Lake alongside Andrew Garfield and Riley Keough.
For his role as Venom in Spider-Man 3, Grace upped his workout routine to increase his strength and gain muscles. It was also his first time to play a character in a superhero film. This only entails action scenes and further physical training. So, what was it like for the actor to train for the part? "In the original comic book he's like 40 and really muscle-bound and I had to work out for 6 months," revealed the actor.
Getting more candid about his experience, he said: "I had to keep working out through the film which is probably not a surprise to anyone but it was a first for me and you have to eat right too which is really a bummer of working out. The working out is not nearly as hard as eating and I'd eat aggressively because I lose weight very easily." The actor also confessed to not liking the workout part as according to him, it was "strenuous".