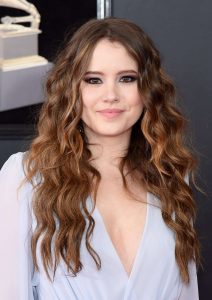 Hollywood star Taylor Spreitler had her beginnings when she debuted in Law & Order: Special Victims Unit. She next acted in a short film called All Souls Day. She later landed her first starring role on television — as Mia McCormick in the daytime soap opera Days of Our Lives. She was on the show from 2009-2010. Following this, she secured the part of Lennox Scanlon in the sitcom Melissa & Joey. It aired on ABC Family from 2010-2015, gaining her wider recognition. At the same time, she starred in the TV movie Stalked at 17 and appeared in 4 episodes of Never Fade Away.
She also made her big screen debut in the film 3 Day Test. This was followed by roles in the movies The Contractor and Girl on the Edge. After Melissa & Joey, she guest-starred in Bones and Criminal Minds. She later played recurring character Mia in the Hulu series Casual. She then starred as Marissa in the horror film Amityville: The Awakening. Back on TV, she also became known for her starring role as Kendra Gable in the CBS sitcom Kevin Can Wait. She recently starred in the straight-to-video film Leprechaun Returns.
The actress has recently lost weight, transforming her figure into a slender, more toned physique. As part of her diet plan, she made sure that she only consumed clean, whole foods. This means she lessened her intake of sugary foods and made efforts to avoid anything processed. She focused on clean eating and was determined to make it a habit. She took things slowly, of course. Eventually, she felt the difference — not only has she lost weight but she's also feeling stronger with more energy. As for her diet, her meals mostly consist of lean proteins, whole grains, nuts, fruits, and vegetables. While she allows herself to indulge in her cravings every now and then, she does so in moderation.