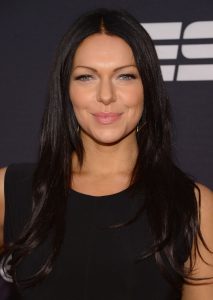 Hollywood star Laura Prepon got her start as Donna Pinciotti on the Fox sitcom That '70s Show. The series aired on television for eight seasons, gaining her significant attention. While on the show, she made her film debut in Southlander. She went on to have roles in the movies Slackers and Lightning Bug, the latter of which she was also the executive producer. In 2006, she portrayed Karla Homolka in the movie Karla. She also performed in the film Come Early Morning.
After That '70s Show ended in 2006, she joined the main cast of the ABC drama series October Road as Hannah Jane Daniels. After it was canceled, she appeared as Karen in 3 episodes of How I Met Your Mother. In the 2010s, she first had guest appearances on the television shows In Plain Sight, Medium, House, Love Bites, Castle, as well as starred on the TV movie The Killing Game. She next starred in the feature films Lay the Favorite and The Kitchen. She went on to become famous for playing Alex Vause on the Netflix series Orange Is the New Black, a role she has been playing since 2013. More recently, she has appeared in the movies The Girl on the Train and The Hero.
In her book The Stash Plan: Your 21-Day Guide to Shed Weight, Feel Great, and Take Charge of Your Health, the actress talked about how healthy living. She revealed how it was a big pressure for her as an actress to maintain a slender figure and how it was hard to do so. As discussed in her book, her health approach consists of healing broths, stretching, and preparing her own food."Broths are important," said the actress.
"Within days I felt better. They have cartilage and collagen. Our bodies need and make collagen; it helps your body operate as it should." Does she believe in diets? She said: "Being the queen of bad diets, I can tell you diets don't work. This teaches people the basics for the rest of their lives. You have to know what your body can handle. In other words, yes, eat butter. But not a stick of butter."