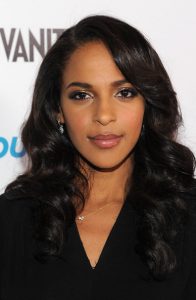 Hollywood star Megalyn Echikunwoke debuted in the 1998 miniseries Creature. She next made her first film role in the movie Funny Valentines. Her career became more prolific in the 2000s, first starring as Cherish Pardee on the short-lived series Spyder Games. At the same time, she had a recurring part as Nicole Palmer on 24. Following this, she joined the main cast of the show Like Family as Danika Ward. After its cancellation, she got the recurring role of Angie Barnett on the Fox sitcom That '70s Show. She also guest-starred in an episode of Supernatural playing Cassie Robinson.
From 2006 to 2007, she played Isabelle Tyler on the CBS series The 4400. After this, she starred as Dr. Tara Price on CSI: Miami. In the 2010s, she had recurring parts as Holly Strickler on 90210 and April on House of Lies. In 2012, she starred as Riley Parker on Made in Jersey, portrayed Megan Shane on Mind Games, and starred as Simone Baptiste on Damien. She was also active on the big screen at the same time. She had performances in the movies Damsels in Distress, The Meddler, CHiPs, Step Sisters, An Actor Prepares, and Night School.
Looking at the 35-year-old actress, it's apparent she takes care of her body. While she's slim and fit, she's also strong. She's even played Vixen in an episode of Arrow. Generally, the actress practices a healthy lifestyle. This means she works out on a regular basis and eats clean and whole foods as well. Most of the time, she stays away from processed foods, especially oily and sugary ones. Fast food is a big no-no for the actress. She prefers homemade meals so she can choose the ingredients to put in. Her daily diet plan mainly consists of lean proteins, whole grains, and fruits and vegetables. She also eats in moderation, never allowing herself to overindulge.