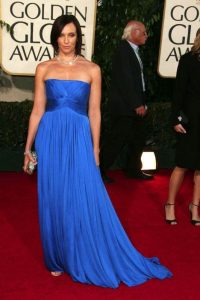 Acclaimed Australian actress Toni Collette got her start sometime in the early '90s. Her first acting role was in the film Spotswood, an Aussie film released in 1992. Soon after, she made her breakthrough as the lead in the movie Muriel's Wedding. For her performance in this comedy-drama flick, she was nominated for a Golden Globe for Best Actress. This led her to start a career in Hollywood, first appearing in the film Clockers. She later had roles in other American films, including The Pallbearer, Emma, and Clockwatchers. In 1999, she played Lynn Sear in the movie The Sixth Sense, which earned her an Academy Award nomination for Best Supporting Actress.
She continued her prolific career in the 2000s, starring in the highly praised movies About a Boy and The Hours. She went on to star in the film Little Miss Sunshine, for which her performance was again well-received, getting Golden Globe and BAFTA nominations. In 2006, she portrayed Kathy Graham in the TV film Tsunami: The Aftermath. For this, she received a Primetime Emmy nomination. From 2009-2011, she starred as the lead on the Showtime series United States of Tara, winning a Primetime Emmy and a Golden Globe for her performance. Following this, she starred on the short-lived series Hostages. More recently, she had roles in the films Please Stand By, Hereditary and Hearts Beat Loud.
Toni Collette does not only exercise to stay in shape, but she also eats healthily. For her, feeling great from the inside and out isn't that complex. "I always make sure I drink lots of water, exercise and eat well," said the acclaimed star. That's why she mostly follows a plant-based diet. She's a supporter of PETA and animal rights. Hence, meat is not part of her regular diet. She's discovered that a diet mainly composed of whole grains and fruits and vegetables work best for her body.