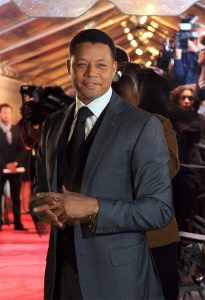 Terrence Howard debuted portraying Jackie Jackson in the TV film The Jacksons: An American Dream. He next starred as Chester Harris in the CBS series Tall Hopes. In the movies, he first appeared with a small role in 1993's Who's the Man?. He later had roles in the films Lotto Land, Mr. Holland's Opus, Butter, and Spark. His performance as Quentin Spivey in the 1999 film The Best Man earned Howard substantial attention.
In the 2000s, he first played Lester Vesco in the comedy film Big Momma's House. Later in 2004, he starred as Cameron Thayer in the award-winning movie Crash. He also starred in the biographical film Ray. The actor got his first Academy Award nomination for Best Actor for his performance in 2005's Hustle & Flow. He went on to star in the movies Get Rich or Die Tryin', Pride and The Brave One. In 2008, he played USAF Lt. Col. James Rhodes in Iron Man.
In the 2010s, he portrayed Nelson Mandela in 2011's Winnie Mandela. Subsequently, he had roles in the movies Red Tails, The Company You Keep, The Butler, Prisoners, and Sabotage, among others. Howard also starred as Senior D.D.A. Jonah "Joe" Dekker in the TV series Law & Order: LA. As of 2015, he stars as Lucious Lyon in the Fox series Empire. At the same time, he played Sheriff Arnold Pope in Wayward Pines.
The actor has done several roles that required him to increase his physical training. When it comes to improving his body and strength, he's always up for it. For his role in the movie Pride, for instance, Howard, underwent an extensive preparation. "I mean it felt like I was training to be an astronaut or something because I spent anywhere from 3,500 to 4,000 yards a day of swimming. To put that in perspective, it's 25 yards across the pool, so you're talking about 150 to 200 laps a day," said the actor. Part of his regimen was also lifting weights for an hour and running every day for at least 45 minutes.