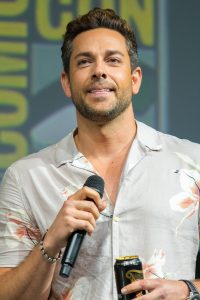 It was in 2002 that Hollywood's Zachary Levi started his professional career. He debuted in the made-for-television film Big Shot: Confessions of a Campus Bookie. Prior to that, he had a role in a pilot that was not picked. He soon got his breakthrough after landing the role of Kipp Steadman in the sitcom Less than Perfect. He played the said role from 2002-2006. Afterward, he made his big screen debut in the film Big Momma's House 2. He next appeared in the films Spiral, Wieners, and Shades of Ray. He also starred as Toby Seville in Alvin and the Chipmunks: The Squeakquel. His shot to fame was as Chuck Bartowski in the NBC series Chuck, where he played the titular character.
In 2010, he voiced Flynn Rider / Eugene Fitzherbert in the animated series Tangled. He later played Fandral in Thor: The Dark World and Thor: Ragnarok. In 2015, he played Luke Collins in Heroes Reborn, as well as played James McMahon in 5 episodes of the sitcom Telenovela. He reprised his role as Flynn Rider in the Disney series Tangled: The Series. In 2017, he appeared as Jeremiah Pontelli in the miniseries Alias Grace and played Thin White Duke in Psych: The Movie. As of 2018, he plays recurring character Dr. Benjamin Ettenberg in the Amazon series The Marvelous Mrs. Maisel. This year, he also starred in the horror comedy film Office Uprising. Additionally, he will play the titular character in the upcoming film Shazam!
For his lead role in his upcoming superhero film Shazam!, the actor upped his workout routine and made sure his diet was even healthier to fully prepare body-wise. When it comes to improving his physique, training rigorously isn't enough and he knows it. That's why he's made sure that he only goes for clean, nutritious foods. When asked what he's eating, the actor said: "It's pretty clean and lean." This can only mean mostly lean proteins and vegetables and fruits. He also said that he takes supplements, too, such as fish oil and Omega-3s.