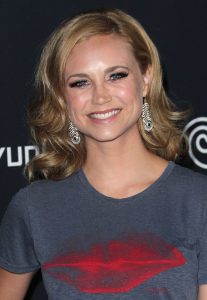 Hollywood actress Fiona Gubelmann got her start in the early 2000s. Initially, she had guest appearances in a variety of shows, including Cold Case, The Mountain, Joey, My Name Is Earl, The Closer, and Californication, among others. Meanwhile, she made her film debut in 2004's Employee of the Month. Subsequently, she had performances in the movies Blades of Glory and Downstream. In the 2010s, she became known for starring as Jenna Mueller in the series Wilfred.
While she was on the show, she also guest-starred on many other TV series as well. Also during this period, she starred in the films Super Buddies and Don't Blink. In 2017, she had a recurring character in One Day at a Time. She next joined the main cast of the short-lived series Daytime Divas. This year, she appeared in 5 episodes of the new series The Good Doctor. She also appeared in the Hallmark TV movie Royally Ever After.
The actress focuses on a plant-based diet, which keeps her super fit and healthy. Being an animal advocate, she has made certain diet changes. On the other hand, she admits that her decision to not eat meat is for health reasons. She said: "Even as a vegetarian, I don't have a problem with people eating meat. I originally became vegetarian for health reasons. I just think my knowledge of how livestock are treated has changed me."
She added: "We try to buy organically. We try to buy from the farmers market. We try to live as humanely as possible." The actress also discovered that she's allergic to gluten. As a result, she became more conscious of the foods she eats. "I've learned to always have food on me, to always have protein bars or something in my purse that I know I can eat. When I work on set, even though they're really great with me and try to accommodate me, I still like to bring my own food because at least that way I know that I'm not going to get sick to my stomach," she said.