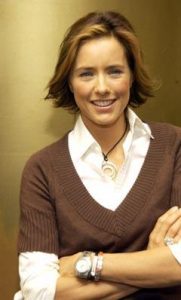 It was in 1989 that actress Téa Leoni got her career start, appearing recurrently in the soap opera Santa Barbara. Her career became more stable in the '90s. During this period, she landed her first regular role on the small screen – playing Alicia in Flying Blind. She became further known for her role as Nora Wilde in The Naked Truth.
In the movies, her breakthrough role was as Julie Mott in the action-comedy feature Bad Boys. She next starred in the movies Flirting with Disaster and played Jenny Lerner in Deep Impact. She further rose to fame in the 2000s with starring roles in Jurassic Park III, Spanglish, and Fun with Dick and Jane, among others. In the 2010s, she focused her time on television, starring as the lead in the still-running series Madam Secretary. which began airing in 2011.
One of the reasons why Hollywood star Téa Leoni maintains her toned figure and youthful look is her following a healthy lifestyle. Aside from healthy eating, she makes sure she also stays physically active. Being a full-time actress and a mother of two, she's pretty much active all the time. "I just keep moving! I walk a lot. My kids, Miller and West, keep me pretty active, too," she said when asked how she stays fit.
Despite this, she still has time to exercise. She doesn't do intense training, though – just the basic stuff, cardio activities mostly. As mentioned, she loves to walk. She also runs whenever she can. She exercises when she has free time. She also practices meditation and yoga to soothe her mind and help with her physical balance. She also likes engaging in outdoor activities. She hikes whenever she can and play sports. For her, it's important to exercise in a way that she can enjoy rather than work out like a robot.