Career Beginnings and Stardom in Friends
Courteney Bass Cox was born on June 15, 1964 in Birmingham, Alabama, United States to businessman Richard Lewis Cox and his wife Courteney. In 1974, when she was 10, her parents divorced and her mother married businessman Hunter Copeland. Following her graduation from Mountain Brook High School, she moved to Washington D.C. to attend Mount Vernon College, where she studied architecture.
Deciding to pursue a career in modeling and acting, she did not complete her architecture course. Her acting career began in 1984 after appearing in an episode of the drama series As the World Turns. The following year, she was chosen to star as Gloria Dinallo in the television series Misfits of Science. The series, however, was cancelled due to low ratings.
She later appeared as Lauren Miller in the sitcom Family Ties. She played the role from 1987–1989. Also in 1987, she made her film debut with the thriller film Down Twisted. She went on to appear in such films as Masters of the Universe (1987) and Cocoon: The Return (1988) during the late 1980s.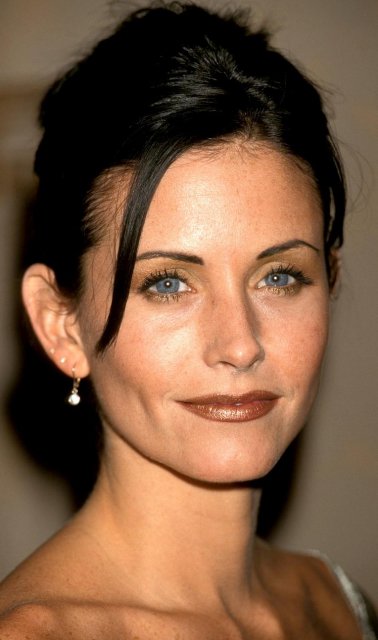 In the early 1990s, she appeared in a series of films like Mr. Destiny (1990), Blue Desert (1991), Shaking the Tree (1992) and The Opposite Sex and How to Live with Them (1992). In 1994, she gained wider recognition on the big screen for her supporting role in the comedy detective movie Ace Ventura: Pet Detective.
Despite the movie's mixed reception, it proved to be a box office success, earning $107,217,396 worldwide on a $15 million budget. Later in 1994, she was asked to audition for the part of Rachel Green in a new sitcom called Friends, but she was cast as Monica Geller instead.
Monica Geller became her most famous role, lasting for ten seasons until 2004. The Guinness Book of World Records in 2005 named her (along with her co-stars Jennifer Aniston and Lisa Kudrow) the highest paid television actress of all time, with her $1 million-per-episode paycheck for the final two seasons of the series.
Cox's film career also flourished along with her television career, beginning with a starring role in the slasher movie Scream in 1996, where she played the role of Gale Weathers. The movie mostly garnered positive reviews and became a major blockbuster hit, earning $173,046,663 worldwide on a $15 million budget.
In 1997, she starred as Rachel Luce in the romantic comedy-drama Commandments. That same year, she reprised her role as Gale in Scream 2. She continued to play the same character in the sequels Scream 3 (2000) and Scream 4 (2011). In the early 2000s, she starred in such movies as 3000 Miles to Graceland (2001), The Shrink Is In (2001) and November (2004).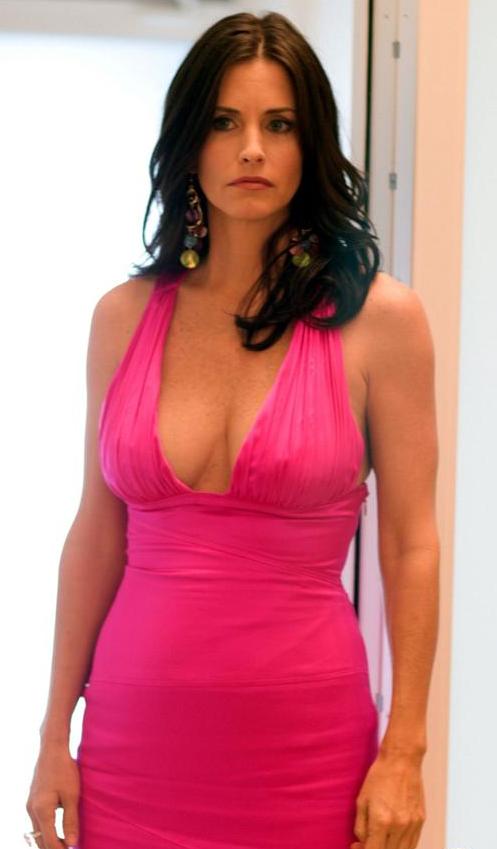 Subsequent Projects and Plastic Surgery
In 2006, she did voice work for the animated film Barnyard: The Original Party Animals, which achieved success at the box office despite its negative reception. Later in 2006, she portrayed Marsha Holloway in the superhero film Zoom. The movie was widely panned by critics and was a major box office disappointment, only earning $12,506,188 on a $75 million budget.
Her last film in 2006 was the slasher movie The Tripper, directed by her then-husband David Arquette while she served as one of the producers for the film. This was followed by the 2008 feature Bedtime Stories, alongside Adam Sandler, Keri Russell, Guy Pearce, Russell Brand and Teresa Palmer. The film received mixed to negative reviews but became a box office success.
She also returned on television as Lucille "Lucy" Spiller in the serial Dirt. She played the role from 2007 until its cancellation in 2008. As of 2009, she stars as Jules Cobb in the sitcom Cougar Town. The pilot episode premiered to 11.28 million viewers. For her performance in the show, she received a Golden Globe nomination for the Best Performance by an Actress in a Television Series – Musical or Comedy in 2009.
Cox surely had made the best of everything, from her successful television career to her cross-over to the big screen. Despite her age, which is almost 50, the Friends actress still has it. However, her youthful appearance, as pleasing as it's supposed to be, still made her the subject of plastic surgery claims.
Recently, Cox is suspected of getting Botox, lots of it. Prior to her alleged cosmetic remedies, the 49-year-old actress, just like any other ageing women, has wrinkles. But now, it seems that all the lines are gone, giving her face a new look, a bit stiff though, as others had observed.