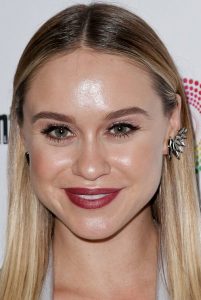 It was in 2005 that Becca Tobin started her performing career on stage. She eventually ventured into television, too. Her first television appearance was in Wiener & Wiener in 2009. By 2010s, she was already active on the small screen. This was after she landed the role of Kitty Wilde in the award-winning musical comedy-drama series Glee. She starred in the said show from 2012 to 2015. This certainly gained her mainstream stardom. Simultaneously, she also made guest appearances on other shows like in Drop Dead Diva, Mystery Girls, and NCIS: Los Angeles. This year, she appeared in an episode of Dropping the Soap. She also starred in the TV films Before You Say I Do and A Song for Christmas.
The former Glee actress stays in shape by making sure that she's always physically active. For one, she exercises regularly. Despite her busy lifestyle, she makes it a point to spend time exercising. She does so because she can feel the benefits in her body, such as that she feels stronger and fitter. She also feels better mentally. She likes to mix things up, so she doesn't stick with the same routine. She explores many movements, which helps her get more motivated instead of feeling bored.
When it comes to her fitness routines, the actress especially likes doing yoga. She said in an interview: "Do yoga, because it's amazing for the body and the mind." She also said that after a good exercise, she feels "strong, energized and sometimes very hungry." She added: "I'm ravenous after a lot of cardio!" Aside from this, the actress-singer likes spending time outdoors. When asked what outdoor activity she particularly likes, she said: "Hiking. I spend tons of time outside on the weekends." With how she balances her lifestyle with an active workout regimen in addition to her healthy eating habits, it's no wonder Becca has an amazing figure.