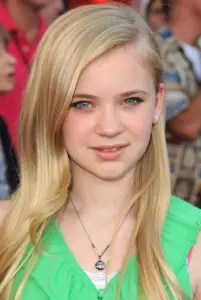 Sierra McCormick is only 18 years old, yet her acting career in Hollywood continues to flourish. Starting her career on the game show Are You Smarter Than a 5th Grader?, she then had a recurring part on the TV series Curb Your Enthusiasm. During the same time, she made guest appearances on various TV programs, including Boston Legal, Supernatural, Criminal Minds, and Hannah Montana, among others. In 2010, she then gained recognition for her role as Susan in the movie Ramona and Beezus, followed by A Nanny for Christmas. It was, however, her role as Olive Doyle in the Disney sitcom A.N.T. Farm from 2011 to 2014 that garnered her mainstream prominence. She went on to reprise the role in the spin-off Jessie, though she only appeared in three episodes. Her most recent work was in the 2015 film Some Kind of Hate.
The young star, despite being very young, takes care of herself by eating clean and healthy food most of the time. Although she's a food lover and wants to enjoy life by eating whatever she likes, she also acknowledges the fact that not setting limitations would take a toll on her health and eventually physical appearance. For this reason, she's careful of the food she eats and imposes self-discipline.
Despite being busy as an actress, she knows that she can still eat healthy food. In the morning, she starts the day right with eggs, cereal, and fruit juices. Before lunch, she takes some snacks in the form of yogurt, almonds, and fruit shakes. For lunch, she has rice, chicken and salad. In the afternoon, she indulges herself in something tasty like a cookie or a brownie. In the evening, she goes back to eating healthy with protein-rich foods such as chicken or fish. She also loves eating pizza and mac and cheese, but she always practices portion control.