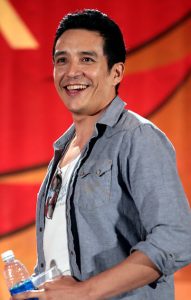 Hollywood actor Gabriel Luna started his Hollywood career in the mid-2000s. His first acting role was in the low-budget film Fall to Grace, which was released in 2005. A few years later, he landed a one-episode role in Fox's Prison Break. Later in 2010, he appeared with a small role in the biographical drama film Temple Grandin. That same year, he also had a role in the movie Dance with the One.
His next roles were in the movies Bernie and Spring Eddy. He also guest-starred in Touch and NCIS: Los Angeles. His first starring role on the big screen was as Tony Bravo in the television series Matador, which he played in 2014. He next played Miguel Gilb in True Detective and Paco Contreras in Wicked City. Luna simultaneously appeared in the feature films Balls Out, Freeheld, Gravy, and Transpecos.
Following this, he portrayed Eddie Hasha in the miniseries Harley and the Davidsons. Between 2016 and 2017, Luna gained more popularity for starring as Robbie Reyes / Ghost Rider in Agents of S.H.I.E.L.D. This year, he starred in the films Hala and Terminator: Dark Fate, the latter of which he played the antagonist. It was announced that he reprised his role as the title part in the upcoming Ghost Rider.
The actor took his workout routine to the next level to prepare for his role in Terminator: Dark Fate. "I knew I had to get my body into a good place," he said in an interview with Men's Health. "Because at the time, I was drinking whiskey and smoking cigarettes and all this other stuff I didn't need to be doing if I intended to play this role."
The actor started his training with leg warmups and proceeding to shoulder ones. He also worked out by doing bicep curls, arnold presses, and dips, among others. He also performed core workouts and finished with cardio or battle ropes.