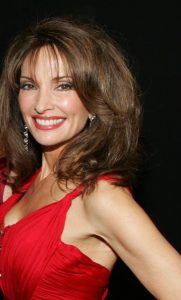 American actress Susan Lucci had her career beginnings in the late 1960s appearing as an extra on film and television. In the 1970s, Lucci gained recognition for starring as Erica Kane in the soap opera All My Children, a role she played for decades. Her work here also earned her Outstanding Lead Actress in a Drama Series nominations at the Daytime Emmys.
In the 1980s, she had roles in such films as Young Doctors in Love, Invitation to Hell, and Anastasia: The Mystery of Anna where she portrayed Darya Romanoff. In the '90s, she guest-starred as Hillary Taylor/Faux Sheila Foley in the primetime drama Dallas. After this, she had performances in such movies as The Woman Who Sinned, Between Love and Hate, and French Silk. The actress then played the titular character in the film Ebbie.
In the 2010s, she appeared as herself in Hot in Cleveland, as well as played Audrey Whitaker in Army Wives. In 2012, she started hosting the documentary series Deadly Affairs. From 2013 to 2016, Lucci also starred as Genevieve Delatour in the ABC comedy-drama Devious Maids. At the same time, she appeared in the film Joy. After this, she guest-starred in an episode of Difficult People. She also had a voice role in the 2018 animated film Ralph Breaks the Internet.
Susan Lucci stays in shape thanks to her healthy lifestyle. She works out consistently, as well as eats healthily, shunning processed foods most of the time. "After my two cups of coffee in the morning, I drink hot water and lemon the rest of the day," said the actress. She's since felt the difference in her body with her hot water and lemon habit.
Exercising has also helped her manage her cravings. "Once I started doing Pilates, I lost my taste for things like cheeseburgers and french fries," she explained. The actress maintains her slender form because she rarely eats dessert. She's also not into snacking, plus she doesn't even eat a lot of bread and pasta, except when she's traveling in Europe.