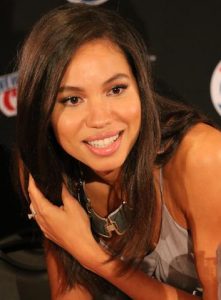 Hollywood star Jurnee Smollett-Bell had her career beginnings in the early 1990s. She made her debut in an episode of Out All Night. Shortly after, she played recurring character Denise Frazer in the ABC sitcom Full House. She reprised her role in Hangin' with Mr. Cooper. She went on to star in the short-lived series On Our Own, after which she played the part of Jurnee in Cosby.
As a movie actress, she made her debut in the 1996 film Jack. The following year, she appeared in the film Eve's Bayou. She landed more movie roles in the 2000s, starring in Beautiful Joe, Roll Bounce, and Gridiron Gang. The actress later portrayed Samantha Booke in the biographical drama film The Great Debaters. During this period, she also made guest roles in Strong Medicine, ER, House, and Grey's Anatomy. In 2003, she starred in the TV series Wanda at Large, though it didn't last long on air.
From 2009 to 2011, she became known for her role as Jess Merriweather in Friday Night Lights. She simultaneously starred as Lisa Tyler in The Defenders. Around the same time, she starred as Nicole Wright in HBO's True Blood and Heather Hall in Parenthood. From 2016 to 2017, she then starred as Rosalee in the period drama Underground. She will star as Letitia "Leti" Dandridge in the upcoming drama series Lovecraft Country. Also this year, she starred as Dinah Laurel Lance / Black Canary in the film Birds of Prey.
Jurnee Smollett-Bell follows a diverse workout routine that ranges from yoga to plyometrics. She also loves to take dance classes whenever she feels like it. She also doesn't need much in order to keep up with her fitness regimen. "If I have a jump rope and a resistance band, I can work out anywhere," said the actress. "Even without a jump rope. If you do 200 jumping jacks, then drop and do some crunches, and then do some squats, you're good."