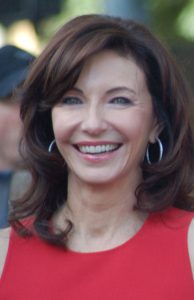 In 1978, actress Mary Steenburgen debut in the feature film Goin' South. Later in 1980, she portrayed the role of Lynda West Dummar in the comedy-drama film Melvin and Howard. She was acclaimed for her work in this movie, winning both the Oscar and Golden Globe for Best Supporting Actress. The rest of the decade saw her performing in the films Cross Creek, Dead of Winter, Miss Firecracker, and Parenthood, among others.
In the '90s, she was the voice of Clara Clayton in the animated series Back to the Future. She also played the same role in the film Back to the Future Part III. She went on to star in the films The Butcher's Wife, What's Eating Gilbert Grape, Philadelphia, and Nixon. In 1996, she starred as Mary Gulliver in the miniseries Gulliver's Travels. After this, she starred as Kate Montgomery in the TV series Ink. The actress continued acting in the 2000s.
She initially appeared as herself in Curb Your Enthusiasm, after which she played Helen Girardi in Joan of Arcadia. During this period, Steenburgen had performances in the films I Am Sam, Sunshine State, Wish You Were Dead, Hope Springs, The Brave One, and Step Brothers, among others. In the 2010s, she had recurring roles in Wilfred, Justified, and Orange Is the New Black. She later starred as Gail Klosterman in the Fox series The Last Man on Earth. This year, she starred as Maggie Clarke in the new series Zoey's Extraordinary Playlist.
Apart from her diet plan, Mary Steenburgen stays in shape following her workout routine. Nonetheless, she admits to finding it hard to get up and exercise. She needs to forcer herself in order to achieve perform workouts. "I force myself to swim or work out with weights. I walk some too, but even that's boring," said the actress.