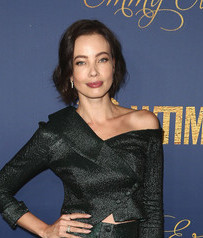 Stephanie Corneliussen entered the Supermodel of Scandinavia competition after being discovered during her teens. She won the title, ultimately leading her to start a modeling career. She's graced the cover of numerous magazines, as well as featured in such publications as GQ, Vanity Fair, treats!, Vs., Playboy, and Vogue.
She also landed gigs appearing on ad campaigns for such brands as Armani, Lexus, and Nikon, among others. In the 2010s, Corneliussen ventured into acting. She first appeared with a small role in the 2013 film Hansel & Gretel: Witch Hunters. The following year, she appeared in the television movie Hello Ladies: The Movie. She also made one-time roles in Royal Pains, Bad Judge, and The Exes.
She gained mainstream recognition after landing the role of Joanna Wellick in USA Network's Mr. Robot. She was part of the show's main cast from 2015 to 2017. At the same time, she played Valentina Vostok, a recurring character in Legends of Tomorrow. Afterward, the actress played the Mystery Woman in ABC's Deception. Her most recent work on the small screen was as Gabrielle Xavier in the FX series Legion.
Stephanie Corneliussen maintains her figure and overall wellness with a vegan diet.
"I've been living a vegan lifestyle very seriously since 2015," said the actress. "There was information out there I was purposely avoiding because I knew knowing would change everything. Listen, read the materials, see the nasty videos and be prepared that it would change your life." The model-actress is also a staunch animal rights advocate, influencing her decision to change her lifestyle.