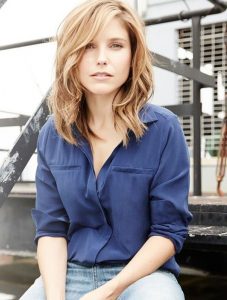 Sophia Bush is an American actress whose Hollywood career began on television with a recurring role on Nip/Tuck and eventually on One Tree Hill, for which she was widely known for her role as Brooke Davis. While on the show, she managed to act on the big screen with starring roles in the films Supercross, Stay Alive, John Tucker Must Die, The Hitcher, and The Narrows. After her long stint on One Tree Hill ended, she starred on the short-lived series Partners. She then returned to mainstream television as Erin Lindsay on Chicago Fire and later on Chicago P.D.. She has also reprised the said role on Law & Order: Special Victims Unit and Chicago Med.
The television star has been known for her sassy presence on TV as well as her radiating sex appeal. Her slender body is also something that she seems to naturally possess. As she gets older in the industry (she's now in her 30s), she makes sure that she takes care of herself really well through balanced, healthy diet and exercises. Basically, she has regular boxing classes with her personal trainer. She actually started boxing around ten years ago. It made her feel great, so she continued and this has since become part of her lifestyle that she still currently enjoy doing.
According to the actress, the effect of boxing is not only physical but also mental as it trains one's mind in incredible ways. Of course, her boxing training comes handy with her role as a detective on TV's Chicago P.D.. Through her boxing skills, she can do her own stunt work on the TV show as her capacity to perform extreme physical choreography is strengthened. In addition to this, she tries to do yoga more frequently as she believes being flexible means being strong.