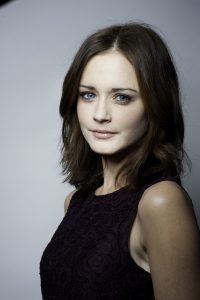 American actress Alexis Bledel had a solid debut on Gilmore Girls as one of the two lead characters. The show was a success and went on to have a large fan base not only in the US, but also abroad. Her fame on TV soon reached the cinema with roles in the films Bride and Prejudice, Sin City, The Sisterhood of the Traveling Pants, and Zoom. Gilmore Girls ended in 2007, but she continued her career in the movies, starring in The Sisterhood of the Traveling Pants 2, as well as in some indie movies like The Good Guy and the coming-of-age film Post Grad. She also recently starred in the indie film Jenny's Wedding. She will reprise her role as Rory in the continuation of Gilmore Girls as a limited series.
Hard to believe but our favorite teenager on Gilmore Girls is turning 35 this year and is also a mom. The pretty-faced actress has managed to stay long enough in Hollywood, not letting the fame spoil her. Though her recent works were mostly in independent cinema, there's no denying that Alexis is still one face and name we cannot dare to forget. The upcoming continuation of Gilmore Girls should be thrilling especially for fans. There's also one thing that bugs her fans all these years, how is it that the actress still looks like a teenager? Sure, she has grown to be more glamorous, but she could still pass as a student.
It is amazing how the celebrity has managed to take care of herself in a very spectacular way. It is a no-brainer that her clean lifestyle helps her look the way she looks. She eats right and she exercises, whenever she can. Also, she might look look like skinny and frail, but Alexis is a fierce warrior on the inside. Her recurring character on Mad Men on how she could be ferocious if she wanted to. How does she keep slim and fit at the same time? Cardio exercises, yoga, Pilates sometimes, and being plain active. She loves sports and tries to engage herself in outdoor activities. Not only does she get the perfect workout, she also have fun.