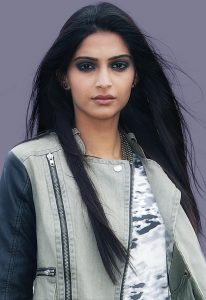 Sonam Kapoor has been exposed to the world of acting since she was young. This is only appropriate since her dad is one of Bollywood's greatest actors Anil Kapoor. She entered the industry not as an actress first. She worked as an assistant director for the movie Black released in 2005. A few years later she made her acting debut in the movie Saawariya. This was a strong start for her, getting a Filmfare nomination for Best Female Debut. Her starring role in I Hate Luv Storys brought her to mainstream stardom. She continued acting in the 2010s. She also had some failures as an actress, but she made it up with her performance in Raanjhanaa. Her performance recently in Neerja won her the Filmfare Critics Award for Best Actress.
Before entering the show business, Sonam was heavier. It was reported she weighed 86 kilograms. She never thought of being an actress herself, so she didn't really care. It all changed when she was offered a starring role in Saawariya. Although she was already losing weight at the time, her film project pushed her to work harder. She underwent a strict eating and workout regimen that she was able to lose 35 kilograms. The actress credited her mother to helping her lose weight.
She said: "In all fairness, it was my mother who helped me get rid of my excess weight. The first thing she did was to keep me off the stuff I was so fond of as a teenager- chocolates, ice creams, fried foods and sweets." She then went through intense workout sessions and worked with personal trainers. She worked with a weight trainer, Pilates teacher, and a general fitness trainer. She also did power and artistic yoga. Up to this day, the actress does the same workout efforts to maintain her toned figure. Though every day, she mixes her workout routines to avoid getting bored.