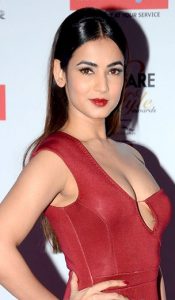 In 2008, Sonal Chauhan made her acting debut in the Hindi film Jannat. For her role here, she received a Best Female Debut nomination at the Filmfare Awards. She was also nominated for the Superstar of Tomorrow – Female award at the Stardust Awards. That same year, the actress made her Telugu debut in Rainbow. Later in 2010, she ventured into Kannada cinema with the film Cheluveye Ninne Nodalu.
She worked in Bollywood again with a performance in the Hindi movie Bbuddah… Hoga Terra Baap, gaining her wider recognition. For her role here, she was nominated for the Breakthrough Supporting Performance – Female at the Stardust Awards. Her next roles in Hindi cinema were in Pehla Sitara and 3G. After this, she turned into Telugu cinema, starring in the films Legend, Pandaga Chesko, Sher, and Size Zero.
In 2015, she also starred in the Tamil movie Inji Iduppazhagi. The following year, Chauhan became further known for her role in the Telugu action film Dictator. She won the Most Promising Actress at the TSR TV National Film Awards for her work here. The actress subsequently starred in the movies Paltan, Jack and Dil, and Skyfire. Her latest performance on the big screen were in the Telugu feature Ruler.
Apart from her healthy diet plan, Sonal Chauhan stays in great shape by following a regular workout routine. She goes to the gym three days a week to train. Her fitness regimen is a combination of cardio and weights.
To motivate her even further, she attends various fitness classes to try other more ways to stay lean and healthy. She does yoga as well. The actress also swears by her dancing routine. "I dance. I think this is a good way to keep yourself fit and healthy. I find swimming and dancing easier than going to the gym," said Chauhan.