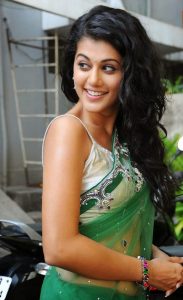 Indian star Taapsee Pannu had her career beginnings in the 2010s. She made her debut in the Telugu movie Jhummandi Naadam. She next made her Tamil debut in Aadukalam, which got her Vijay nominations. Her performance in 2011's Mr. Perfect has gotten her a Filmfare nomination for Best Supporting Actress – Telugu. She ultimately made her Hindi debut in Chashme Baddoor. For this, she was nominated for a Filmfare for Best Female Debut. Her performance in the Tamil feature Arrambam was also praised. This year, she starred in the Bollywood films Running Shaadi, The Ghazi Attack, Naam Shabana, and Judwaa 2. In 2018, she has three upcoming films in Bollywood.
The 30-year-old actress stays in shape by living a healthy life. She is careful of what she puts in her body. Thus, she makes sure she only eats nutritious foods. She allows herself to indulge in her cravings, but she does so in moderation. Portion control is important for her. In an interview, she got candid of her dieting secrets. She said: "I avoid eating gluten. I have kept wheat out of my diet. So instead of rotis and bread, I try and eat rice, which is easier to digest." She also said that "it's a myth that you can't eat carbs when you are trying to lose weight."
She explained: "It's all about finding out what works for you. As for me, I prefer drinking almond milk to regular milk and I have seen it make a difference." In addition, she keeps herself hydrated always. "I keep myself hydrated. I drink a lot of water. That takes care of the fitness and skin as well," she said. She doesn't have any vices. She stays away from alcohol and cigarettes since it's not a secret that these two can wreak havoc in one's health.