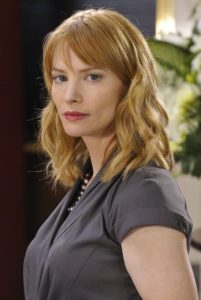 Actress Sienna Guillory who also used to work as a model got her acting start when she debuted in an episode of Riders. She next appeared on the miniseries The Buccaneers and guest-starred on Out of Sight. She later made her film debut in 2000's Sorted. She later gained recognition for her role as Helen on the miniseries Helen of Troy. She next portrayed Lettice Knollys on the miniseries The Virgin Queen. During this period, she also starred in the films The Time Machine and The Principles of Lust.
Her first notable role on the big screen was as Jill Valentine in Hollywood's Resident Evil: Apocalypse. Following this, she starred in the movies Silence Becomes You, Eragon, and Inkheart. In the 2010s, she reprised her role as Jill Valentine in the sequel Resident Evil: Retribution. After this, she joined the main cast of Luther on its third season as Mary Day. Recently, she stars as Natalie Yelburton on Fortitude and Eve on Stan Lee's Lucky Man. Meanwhile, she's also starred in the films The Goob, High-Rise, Don't Hang Up, and The Warriors Gate.
During one of her early interviews, the actress admitted that she doesn't like going to the gym. As a matter of fact, she prefers playing sports rather than following a specific workout routine at a gym. "I'm not a gym person," she said. "I used to be very sporty at school and I loved competitive sports, but it's hard for me to go to a gym and just run. I get bored very easily, so I have to find things that are more interesting. I could do with being more toned. It's small, but it's not firm," she revealed. However, for her role in the Resident Evil films, the actress knew she needed to up her physical training so that motivated her to do more workouts at the gym. She also follows a healthy diet plan.