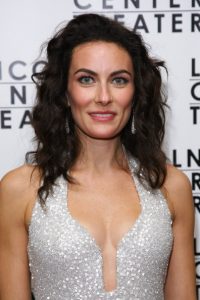 Hollywood performer Laura Benanti had her career beginnings in the mid-2000s. She made her television debut as Billie Frasier in 7 episodes of Starved. She next made her big screen debut in Take the Lead, followed by the movie Falling for Grace. Her next role was on television as Beth Keller in 5 episodes of Eli Stone. In the 2010s, she played Carol-Lynne Cunningham in The Playboy Club and Maria Grazie in Law & Order: Special Victims Unit.
She then joined the main cast of the short-lived comedy series Go On as Lauren Bennett. Next, she appeared as Shelby Shackleford in 8 episodes of Royal Pains. Her next role was as Mia Peyton in Nurse Jackie. She then became further known for her role as Sadie Stone in Nashville and Alura Zor-El / Astra In-Ze in Supergirl. Since 2017, she stars on the show The Detour as Edie.
Laura is also a prolific Broadway performer. For her role in the Broadway show She Loves Me, she admitted to going through a strict diet as preparation for her role. In an interview when asked what new habits she had done, she said: "Never going out. Never drinking, never eating anything delicious. Basically, living like a little monk. I'm pretty fun right now." Talking about her diet at the time, she said: "I have veggie smoothies before the show and basically a lot of soup and veggies and rice crackers. My diet is so boring right now. Have I mentioned I'm not fun?"
Normally though, the actress is now more relaxed with her eating habits. She explained: "I used to put so much emphasis on my diet that it really took a lot of joy out of my life. But I decided that I would rather be ten pounds heavier and a million times happier than really skinny and miserable." This was after admitting that she used to only eat tofu and veggies when she was younger because she was very conscious of her weight.