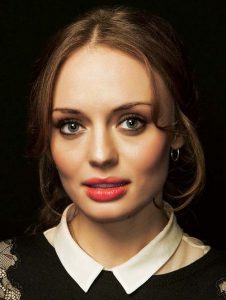 Actress Laura Haddock had her career beginnings in the late 2000s. She debuted in an episode of the television series My Family. She later had roles on the TV movies The Colour of Magic and Marple: A Pocket Full of Rye. Her first notable role on the small screen was as Samantha on the British sitcom How Not to Live Your Life. She later pursued a career on the big screen, debuting with a small role in the Hollywood film Captain America: The First Avenger. At the same time, she was noticed for her role in the movie The Inbetweeners Movie.
She next starred in the film Storage 24. From 2013 to 2015, she became widely known for starring as Lucrezia Donati on the historical fantasy series Da Vinci's Demons. While on the show, she played Meredith Quill in the Hollywood film Meredith Quill, which she reprised in the sequel Guardians of the Galaxy Vol. 2. She's also played Megan Cantor on the British series Luther, as well as guest-starred on The Musketeers and The Level. In 2017, she co-starred as Viviane Wembly in the Hollywood feature Transformers: The Last Knight.
The actress gave birth to her first child in 2015 and shortly after that she landed a starring role in the film Transformers: The Last Knight. With this, she knew she had to work hard in order to gain her body back. Of course, it wasn't just for appearance's sake, she also needed to train in order to improve her strength and agility. These are crucial considering she was shooting for a highly-packed action-oriented film.
So, what was her workout routine like during this period? According to her, she underwent a two-month training program of weights, barre work, pilates and riding and all these while being supervised by her trainer. Talking about the experience, she said: "I didn't try to rush it. My body was different after giving birth – my hips were a different shape and I had to be careful about my stomach muscles."