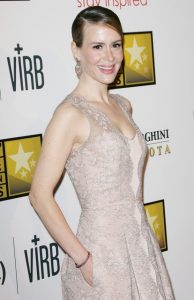 Sarah Paulson is a Hollywood celebrity who began acting in the 1990s. On television, she first had starring roles on American Gothic and Jack & Jill. She later transitioned into the big screen where she got noticed for her roles in such movies as Down with Love, Path to War, and The Notorious Bettie Page. She then got further significant attention for her performance on the TV series Studio 60 on the Sunset Strip. For her work here, she got a Golden Globe nomination. She also played a notable character in the movie The Spirit. Since 2011, she has been starring on the FX anthology series American Horror Story.
Sarah is already in her 40s but her healthy lifestyle helps her achieve her slender and fit figure. Interestingly, the actress admits that she takes her diet more seriously especially when there's an event like the Emmys. Just like with other television actresses, she has a pre-Emmy beauty regimen that involves dieting because she wants to look at her best during television's greatest awards. In an interview, she admitted that she works out and eats healthier to prepare for award shows like the Emmys, though she always eats a healthy breakfast as this gives her enough energy to work throughout the day.
She also dismissed other celebrities who refuse to admit their true eating habits. She said: "People who say they don't do that and they're like 'I was out just hanging out with my friends eating a waffle' and you're like 'No you weren't. No one eats a waffle before they go to the red carpet." She also said she doesn't believe those actresses saying that they lost weight through breastfeeding. For her, the truth for everybody who has slim figure is that because they're all dieting. But post-Emmys, the actress indulges in french fries, salt and vinegar potato chips, chocolates, a donut, and ice cream!