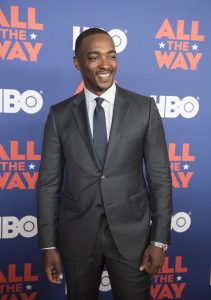 Hollywood actor Anthony Mackie had his start in the early 2000s. He made his cinematic debut as Papa Doc in the movie 8 Mile. His next role was in Hollywood Homicide. He was then noticed for his role in the film Brother to Brother, earning him an Independent Spirit Award nomination. He went on to have notable roles in the films The Manchurian Candidate, She Hate Me, Million Dollar Baby, Freedomland, Half Nelson, and We Are Marshall.
He later played Sergeant J. T. Sanborn in the acclaimed movie The Hurt Locker. In the 2010s, he continued to get noticed for his performances in the films The Adjustment Bureau, Real Steel, Abraham Lincoln: Vampire Hunter, and Pain & Gain. He rose to mainstream fame after landing the role of Sam Wilson / Falcon in Captain America: The Winter Soldier. He reprised his role in Avengers: Age of Ultron, Captain America: Civil War, and Avengers: Infinity War.
To play his character in Pain & Gain, a bodybuilder abusing steroids, the actor knew he needed to bulk up substantially to play the part. During his training, he would start at 5:30 in the morning working out. His regimen consisted of cardio and light weights in the morning. He then worked on the heavy weights at night. "We would start every morning at 5.30am and get in a few hours of serious workouts. Before anyone else was up, we were in the gym," he said.
At the same time, Anthony Mackie didn't want to overdo it because he didn't walk to be overly ripped for his role as the Falcon in Captain America. He explained: "I didn't want to get too big for the Falcon so I've been doing a lot of cardio and just elongating my muscles as opposed to building them up. … A dancer, you have those long, lean, beautiful lines, those long muscles, that's what I was going for with the Falcon."